From Shore to Ridgetop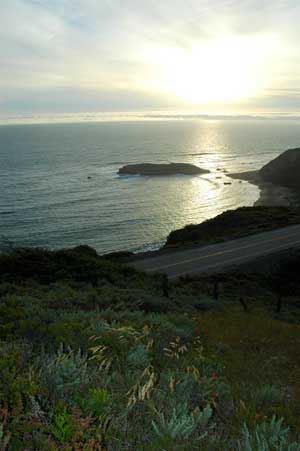 As the crepuscular afterglow bathes the chaparral, turning the chamise (Adenostoma fasciculatum var. fasciculatum) a luminous pink, sun-baked shale releases radiant energy, warming the evening air and teasing resinous fragrances out of the Douglas-firs (Pseudotsuga menziesii var. menziesii) and knobcone pines (Pinus attenuata). Half hidden in the duff, sheltered by skeletal manzanita branches, a slender greenish-white orchid, Piperia transversa—with its elongate, horizontally aligned spurs looking like a collection of knitting needles—gives the approaching darkness a spicy note, a mysterious scent that lingers long in the memory.
This mnemonic snapshot, one of literally thousands that have colored my lifelong relationship with this area, has given me the impetus to share with you some of the attributes, both aesthetic and scientific, that define this remarkable watershed. I have often been asked what makes the Scott Creek Watershed unique, particularly when compared with other coastal California ecosystems. My initial response is to give the following statistics: of the 173 plant families found in California, 90+ are represented here. While the first number includes both native and non-native families, the second number includes only natives. This means that the Scott Creek Watershed, comprising some 30 square miles, possesses more than half of all the native plant families to be found in California!
To partially explain the occurrence of more than 600 native species in the watershed (plus more than 200 non-native species), let us take a four-mile journey, beginning at Greyhound Rock State Beach and progressing in a northeasterly direction toward Lockheed. During the course of this journey, we will traverse several distinct ecosystems and numerous micro-habitats, many of which shelter rare, and in some cases, new species.